In part 3 of our series of homestaging tips, we're talking about three spaces that tend to be very personal: the bedrooms, bathrooms, and home office. All of these spaces have the ability to make a good impression with buyers, but a little attention to detail can go a long way.
De- cluttering and cleaning up these spaces is important, and don't be afraid to shy away from a few simple and budget- friendly DIY projects to freshen these spaces and make them more appealing to buyers. A fresh coat of paint and updates can convince a buyer your home is right for them, especially when it means less work when they move in.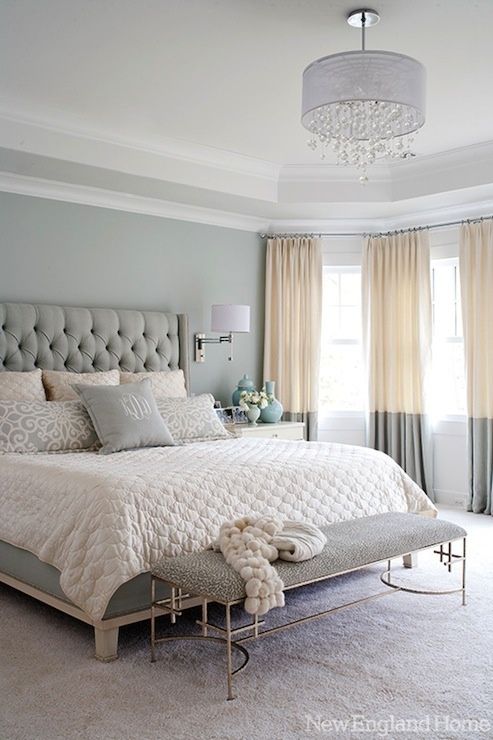 Show off how beautiful your bedroom is with a be that is made and looks cozy.
Simple touches- such as fresh paint and a few modern accessories
can help make a good impression with buyers.
Bedrooms:
- Clean & de- clutter; remove items from dressers and surfaces so the mess isn't distracting to potential buyers
- Dust and make sure light fixtures don't have any burnt- out bulbs (also make sure they're all the same, ie warm or cool light)
- Allow natural light into the room & turn on lights
- Make beds berfore a showing and remove any toys and clothes from the floor
- Make sure closets are tidy and organized to showcase storage space
- If you don't have a headboard, consider making a simple & inexpensive one (check out these DIY projects for ideas)
Even if your home is older, painting the cabinets and changing the hardware is a great cost- effective way to update
this room. Putting out fresh towels and a few decorative touches can help highlight this space.
Bathrooms:
- Clean toilet & sink; remove any stains and residue (make sure to put the toilet seat down)
- Wipe faucets and counters; make sure the mirror is streak- free
- Clean out the tub and make sure the sower curtain is clean
- Put out fresh towels to make the bathroom look tidy
- Remove any laundry and garbage
- Light a candle or spray some air freshener to make sure the bathroom smells fresh and clean
- Ventilate the room every day to help keep it smelling fresh
Showcase a home office by keeping it tiday and organized. Help buyers picture themselves working in the space
and make it warm & welcoming.
Office:
- Put away any personal paperwork; if you have a locked filing cabinet, make sure you file any documents you don't want people to see
- Tidy the desk and remove any untidy paperwork and clutter
- Make sure bookshelves are dust- free and organized
- Turn on a desk lamp if you have one to make the room feel cozy
- Tidy and/ or hide chords that can be a tripping hazard or are untidy
No matter the age of your home, a little attention to detail can make the difference between an interested buyer and a non- interested buyer. A clean and tidy home is essential to help it appeal to buyers, but a few added touched can really make it feel like home. If you're thinking about selling, we'd love to be the realtor team to help! Contact us today to book an appointment.
Image Sources: